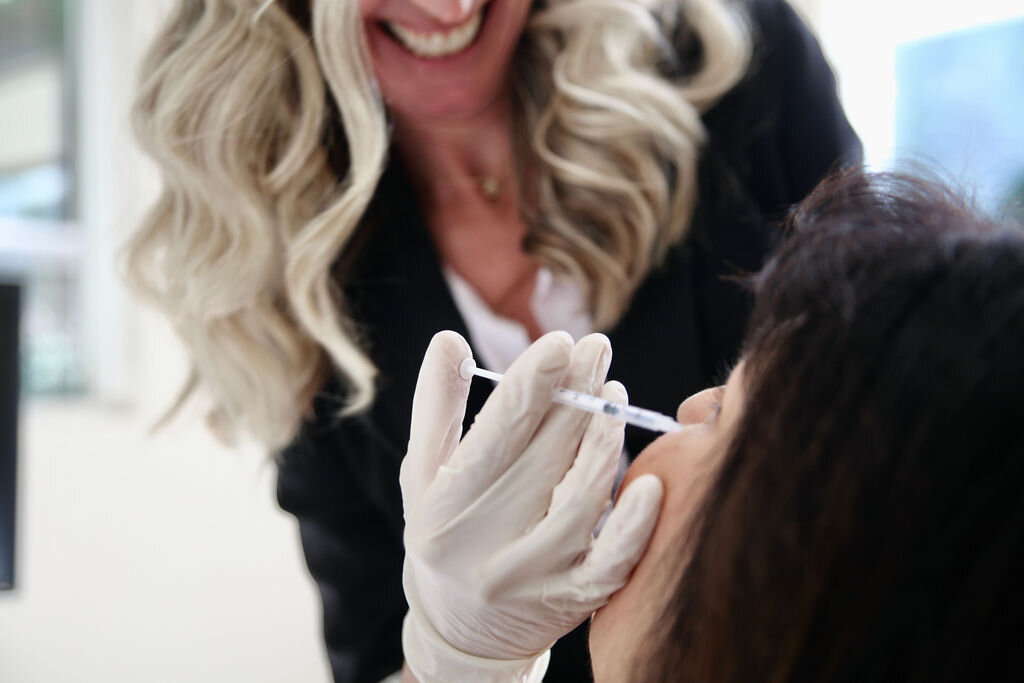 It's a fact of life–our skin loses elasticity as we age. Eventually, wrinkles and fine lines form.
You may first start noticing those lines near the corners of your eyes. Then deeper wrinkles start forming near the brows. Or around the mouth. It may cause you to think you look older than you feel.
A beauty routine alone may not always be able to make those wrinkles disappear. But there is another way to delay the signs of aging and restore your youthful appearance. And you don't have to spend most of your morning in front of a mirror with creams, concealers, and everything else.
A noninvasive beauty treatment for a younger-looking face?
You bet. It's safe, quick, and gives minimal–if any–discomfort.
The treatment: Botox injections.
What is Botox?
Botox injections are shots. They inject a small amount of the neurotoxin botulinum toxin into a target muscle. The injection blocks nerve signals to that muscle.
As the medicine takes effect, the muscle can't tense up (contract). The relaxed effect helps to smooth out the appearance of wrinkles.
Eliminating those wrinkles would be awesome, but you may be wondering…
Neurotoxins? Blocking nerves? What are the risks of Botox?
The good news: When administered by a licensed healthcare provider, Botox is generally safe. It gets created in a lab. Technicians dilute and sterilize the botulinum toxins. The clinicians determine the least amount necessary to use to minimize risk.
Did you know? Doctors use Botox to treat medical conditions like excessive sweating, chronic migraines, an overactive bladder, and more. Botox can also help relieve pain in the jaw, nerves, joints, and other areas.
But back to the anti-aging effects of Botox.
The FDA approved Botox for cosmetic procedures over 20 years ago. Since then, millions have relied on this quick, non-surgical way to reduce or eliminate wrinkles.
Botox as an Aesthetic Treatment
Cosmetic injections generally occur on or around the face. At tiny doses, the medicine provides a safe way to make wrinkles disappear without going "under the knife."
The treatment could do wonders for those troublesome parts of the face and neck. You know,
those areas you can never seem to smooth out or conceal with other products.
This serum can reduce wrinkles in or around your:
Forehead
Around Eyes
Eyebrows
Jawline
Neck
Lips
Chin
Are these your "problem" spots? Let's walk you through what a procedure looks like.
What Happens During A Botox Procedure?
This non-surgical cosmetic treatment gets performed at a doctor's or licensed aesthetician's office. It is a short outpatient procedure that won't affect your routine much.
It all starts with determining if Botox is right for you.
Initial Consultation
During the Good Faith Examination, the clinician screens you to ensure the injections are safe and appropriate for you.
You discuss any previous or current health conditions. Also, you'll list any medications or supplements you take. The doctor then examines your skin.
A skin test ensures you're not allergic to the medication. A tiny amount of Botox gets injected into your forearm and then monitored for any adverse reactions.
If all goes well with your consultation, you'll continue to an appointment.
The Day of Your Botox Treatment
During this quick procedure, the clinician determines the exact site of the injection. Then Botox is administered through a fine needle.
Depending on the number of injections necessary, the procedure lasts under 30 minutes–sometimes much less.
The injection needles are very small. Generally, people tolerate them well.
While most people don't complain of discomfort, some may notice a slight stinging or quick pinching sensation.
After the Procedure
You can, essentially, return to life as usual after the treatments. To reduce swelling and redness, you should avoid putting pressure on the treatment area for up to 12 hours. Your clinician may also ask that you sit upright for 3 to 4 hours and avoid physical exertion for 24 hours.
You should start noticing results within 24 to 48 hours after the shot. Full results set in by the fifth day. Most patients report that they look more relaxed. The lines and wrinkles that make them appear sad or angry have diminished.
The effects of the shot are not permanent. They could, however, last as long as six months. Many notice the effects of Botox starting to wear off around 3 to 4 months.
Are There Any Side Effects of Botox?
Botox is a common procedure that rarely has severe or lasting side effects. Those experiencing side effects usually report them as mild.
Side effects can include:
Pain, bruising, or swelling at the injection site
Headache
Neck Pain
Eye irritation or redness
Flu-like symptoms
In most cases, if a patient experiences these side effects, they go away within 24 hours.
Getting the Most Out of My Treatment
After your Botox treatment, there are things you could do to help extend that youthful appearance as long as possible. Many of these things also help to improve your overall health.
To keep your skin looking your best between treatments, you should:
Use sunscreen when outdoors
Remove makeup before going to bed
Use a gentle facial cleanser each day
Ask your aesthetician about products specific to your skin type
Great Habits to Promote Well-Being and Healthy Skin
Drink Plenty of Water: Keeping the body hydrated helps maintain the skin's elasticity.
Stay Physically Active: Increasing blood flow by exercising nourishes the skin cells better.
Nutritious Foods: Vitamins, minerals, and antioxidants in whole foods help reduce wrinkles and age-related dryness.
Ready to Take The Next Step?
Find out of Botox is the right beauty treatment for you. True Radiance Aesthetics in Carlsbad is a growing, welcoming community of friends passionate about enhancing the natural beauty we all possess.
Our comfortable medical spa combines luxury, camaraderie, and clinical experience in an environment you wouldn't mind spending a couple of hours–or a whole afternoon in.